A lot of external parasites of livestock and horses are flies. Flies are insects that belong to the Dipterans, i.e. those insects that have one pair of wings.
Other parasitic Dipterans of veterinary importance are mosquitoes and keds and midges.
One feature common to all Dipteran flies is that they undergo a complete metamorphosis (they are holometabolic), i.e. their life cycle goes through four major developmental stages: egg, larvae, pupae, and adults (=imago).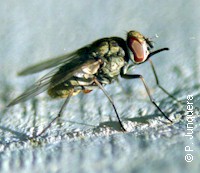 The life cycles are species-specific and can be very different. Some fly species deposit eggs on dung, others on plants, others on garbage, others on carrion or directly on animals, others in water, etc. The articles on each species in this site provide additional information. You can select such a specific article on the corresponding menu.
Click here to learn more about the general biology of insects.
On a global scale, flies are especially harmful for cattle, and less for sheep, pig and poultry. Dogs may be annoyed by some fly species as well (e.g. stable flies). Flies are less of a problem for cats.
Harm is caused through biting and blood loss, associated stress, transmission of various diseases, maggots that feed on the tissues of the host, contamination of milk and other products, etc.
---
Fly

species

of veterinary importance for livestock, horses, dogs and cats
There are three major types of parasitic flies.
Biting flies, i.e. bloodsucking: the damaging stage is the adult fly. They suck blood, stress the animals and transmit diseases. The most important groups are:
Non-biting filth & nuisance flies: they transmit diseases and stress the animals. The most important groups are:
Myiasis causing flies: the damage is caused by the maggots (larvae) that feed on the host's tissues. Adult flies are non-biting flies. The most important groups are: