Pyriprole is an antiparasitic active ingredient used in veterinary medicine in dogs against external parasites (fleas, ticks, etc.). It is not used against agricultural and household pests. It belongs to the chemical class of the phenylpyrazoles.
Common name: PYRIPROLE
Type: veterinary medicine
Chemical class: phenylpyrazole
CHEMICAL STRUCTURE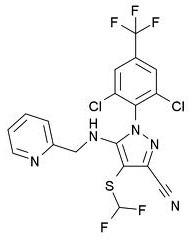 ---
EFFICACY AGAINST PARASITES
Type of action: Broad-spectrum, contact, non systemic ectoparasiticide: insecticide, tickicide
Main veterinary parasites controlled: fleas, ticks.
Efficacy against a specific parasite depends on the delivery form and on the dose administered.
Click here for general information on features and characteristics of PARASITICIDES.
---
DOSING
Pyriprole is a contact phenylpyrazole insecticide and acaricide highly effective against fleas and ticks. It is moderately used in on dogs as a spot-on but not in cats, livestock or horses.
The table below indicates some usual dosing recommendations for pyriprole issued by manufacturers or documented in the scientific literature. They may not be approved in some countries.
Dosing recommendations for PYRIPROLE

DOGS
Delivery
Parasites
Dose (against pyriprole-susceptible parasites)

Spot-on
Fleas
12.5-30.6 mg/kg dep. on animal's weight
Spot-on
Ticks
12.5-30.6 mg/kg dep. on animal's weight
DISCLAIMER: Liability is denied for any possible damage or harm to persons, animals or any other goods that could follow the transmission or use of the information, data or recommendations in this site by any site visitor or third parties.
Dosing recommendations for antiparasitics depend on national regulations. National regulatory authorities determine whether a product is approved for a given indication, i.e. use on a particular host at a specific dose and against a specific parasite. Check the labels of the products available in your country for specific information on approved indications.
---
SAFETY
Oral LD50, rat, acute*:  >300 mg/kg
Dermal LD50, rat, acute*: >2000 mg/kg
* These values refer to the active ingredient. Toxicity has to be determined for each formulation as well. Formulations are usually significantly less toxic than the active ingredients.
MRL (maximum residue limit) set for animal tissues (e.g. beef, mutton pork or chicken)*: NOT APPLICABLE. Approved only for dogs.
Withholding periods: NOT APPLICABLE. Approved only for dogs.
Learn more about pyriprole safety.
General safety information for antiparasitics is available in specific articles in this site (click to visit):
WARNING

It is obvious that veterinary products are not intended for and should never be used on humans!!!
---
MARKETING & USAGE
Decade of introduction: 2000
Introduced by: NOVARTIS (→ ELANCO)
Some original brands: PRAC-TIC
Patent: VALID
Use in LIVESTOCK: No
Use in HORSES: No
Use in DOGS and CATS: Moderate (only dogs)
Main delivery forms: 
Use in human medicine: No
Use in public/domestic hygiene: No
Use in agriculture: No
Generics available:  No
---
PARASITE RESISTANCE
On pets: No
Learn more about parasite resistance and how it develops.
---
SPECIFIC FEATURES
Pyriprole is a phenylpyrazole derivative similar to fipronil. Although recently introduced (in the 2000's) and still under patent protection it is a "classic" insecticide. So far it is only approved in the EU (PRAC-TIC) and a few other countries for use in dogs against fleas and ticks. So far it is not approved for use in cats or livestock. It has not been introduced as an agricultural or hygiene pesticide.
Efficacy of pyriprole
Pyriprole applied as a spot-on is highly effective against fleas and several ticks species. Efficacy against fleas is comparable to that of other modern insecticidal active ingredients such as fipronil, imidacloprid, spinetoram spinosad. As most flea spot-ons it controls existing flea and tick infestations in about 1 to 2 days, and provides about 4 weeks protection against re-infestations.
Pharmacokinetics of pyriprole
Pyriprole is quite lipophilic and behaves similarly to fipronil, i.e. when applied topically to animals it quickly spreads throughout the hair-coat and the body surface, and is deposited in the sebaceous glands of the skin, from where it is slowly released. This allows a rather long residual effect against fleas and ticks.
After topical administration to dogs pyriprole is slowly absorbed (absorption half-time of 1 to 4 weeks). Three weeks after topical administration 30 to 45% of the administered dose remains mostly unchanged on the skin and the hair-coat. Absorbed pyriprole is very quickly metabolized in the liver. Excretion runs mainly through feces, the rest through urine. 
Mechanism of action of pyriprole
Phenylpyrazoles are inhibitors of GABA (gamma-aminobutyric acid), a key neurotransmitter in the central nervous system. This mechanism exists not only in insects but also in mammals and other vertebrates. However phenylpyrazoles seem to be much less effective on GABA receptors in vertebrates than in invertebrates. 
COMMENT from P. Junquera. I found on 01.01.2014 that parts of the en.wikipedia article on pyriprole have been copy-pasted fom this article without permission and without reference to this source. It remained so on 18.05.2021 .
Click here to view the list of all technical summaries of antiparasitic active ingredients in this site.