Monepantel is an antiparasitic active ingredient used in veterinary medicine in sheep, goats and cattle against internal parasites (mainly roundworms). It is not used against agricultural and household pests. It belongs to the chemical class of the amino-acetonitrile derivatives
Common name:  MONEPANTEL
Type: veterinary medecine
Chemical class: amino-acetonitrile derivative
CHEMICAL STRUCTURE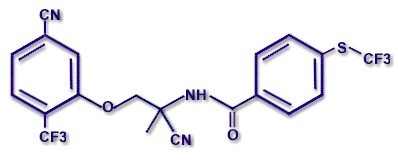 ---
EFFICACY AGAINST PARASITES
Type of action: broad-spectrum nematicide anthelmintic, endoparasiticide
Main veterinary parasites controlled: gastrointestinal roundworms (= nematodes)
Efficacy against a specific parasite depends on the delivery form and on the dose administered. 
Click here for general information on features and characteristics of PARASITICIDES.
---
DOSING
Monepantel is a narrow-spectrum anthelmintic effective against the most important gastrointestinal roundworms of sheep, goats and cattle. It is ineffectice against roundworms outside the digestive tract (e.g. in the lungs, in the eyes, etc), against tapeworms, or against flukes (e.g. Fasciola hepatica). It is completely ineffective against external parasites.
It is administered orally as a drench. For the time being it is approved for use in sheep, goats and cattle, not in other livestock, horses or pets.
Monepantel has almost no residual effect, i.e. it kills the parasites during a few hours after treatment but offers no significant protection against re-infestation.
The table below indicates some usual dosing recommendations for monepantel issued by manufacturers or documented in the scientific literature. They may not be approved in some countries.
Dosing recommendations for MONEPANTEL

Delivery
Parasites 
Dose (against monepantel-susceptible parasites)

SHEEP & GOATS
Oral
Gastrointestinal roundworms
2.5 mg/kg
Cattle
 
 
Oral
Gastrointestinal roundworms
2.5 mg/kg
DISCLAIMER: Liability is denied for any possible damage or harm to persons, animals or any other goods that could follow the transmission or use of the information, data or recommendations in this site by any site visitor or third parties.
Dosing recommendations for antiparasitics depend on national regulations. National regulatory authorities determine whether a product is approved for a given indication, i.e. use on a particular host at a specific dose and against a specific parasite. Check the labels of the products available in your country for specific information on approved indications.
---
SAFETY
Oral LD50, rat, acute*: >2000 mg/kg
Dermal LD50, rat, acute*: >2000 mg/kg
* These values refer to the active ingredient. Toxicity has to be determined for each formulation as well. Formulations are usually significantly less toxic than the active ingredients.
MRL (maximum residue limit) established for either beef, mutton pork or chicken meat*:
CODEX: Yes
EU: Yes
USA: No
AUS: Yes
* This information is an indicator of the acceptance of an active ingredient by the most influential regulatory bodies for use on livestock.
Withholding periods for meat, milk, eggs, etc. depend on delivery form, dose and national regulations. Check the product label in your country.
Learn more about monepantel safety (poisoning, intoxication, overdose, antidote, symptoms, etc.).
General safety information for antiparasitics is available in specific articles in this site (click to visit):
WARNING

It is obvious that veterinary products are not intended for and should never be used on humans!!!
---
MARKETING & USAGE
Decade of introduction: 2000
Introduced by: NOVARTIS → ELANCO
Some original brands: ZOLVIX
Patent: VALID
Use in LIVESTOCK: Yes, moderate
Use in HORSES: NO
Use in DOGS and CATS: No
Main delivery forms: 
Use in human medicine: No
Use in public/domestic hygiene: No
Use in agriculture: No
Generics available:  No
---
PARASITE RESISTANCE
In livestock: YES. A first case of resistance of Teladorsagia circumcincta and Trichostrongylus colubriformis was confirmed in sheep and goats in a farm in New Zealand, after only 2 years using monepantel in the property. In 2016 resistance of Haemonchus spp to monepantel was confirmed in a sheep farm in NSW, Australia. Resistance of Trichostrongylus vitrinus and Teladorsagia circumcincta against monepantel has been reported in the UK as well.
Learn more about parasite resistance and how it develops.
---
SPECIFIC FEATURES
Monepantel is a relatively new anthelmintic for livestock introduced in the late 2000's.
It is the first representative of the amino acetonitrile derivatives, which is the first chemical class with a new mode of action against livestock nematodes introduced after ivermectin in the 1980s. It took almost 30 years to discover and introduce an active ingredient with a new mode of action: ivermectin was introduced in 1981 and monepantel in 2009 in New Zealand (ZOLVIX).
Since 2009 monepantel has been introduced as a drench for sheep in several countries, e.g. New Zealand, EU, Australia, Uruguay, Argentina, etc. It is approved for use in goats in some countries as well. Later on it was introduced for cattle as well in some countries, but only in combination with abamectin.
Monepantel is not used in horses, dogs or cats.
Efficacy of monepantel
Monepantel has a broad-spectrum of activity against gastrointestinal nematodes of sheep, including adults and L4-larvae of the most important species (e.g. of the genus Haemonchus, Ostertagia - Teladorsagia, Trichostrongylus, Cooperia, Nematodirus, Chabertia and Oesophagostomum). It is also effective against the inhibited larvae of several of these species. The key feature of monepantel is that it is fully effective against strains of these species resistant to benzimidazoles, levamisole, macrocyclic lactones and closantel.
At the therapeutic dose monepantel is not effective against non-gastrointestinal worms such as lungworms (e.g. Dictyocaulus spp) or eyeworms (e.g. Thelazia spp), tapeworms or flukes.
Three days after oral administration of monepantel a 100% reduction in the fecal egg counts are achieved that lasts for about 14 days.
Pharmacokinetics of monepantel
After oral administration monepantel is quickly absorbed into the bloodstream and rapidly metabolized to monepantel's sulfone derivative that has a similar efficacy as the parent molecule. Four hours after administration, the sulfone derivative predominates over the parent molecule. Mean residence time in blood for monepantel and monepantel sulfone are about 5 and 110 hours, respectively.
About 95% of the administered dose is metabolized to the sulfone derivative. The maximum blood concentration of the sulfone derivative is reached about 2 hours after administration.
Only about 4% of the administered dose is excreted unchanged through the feces. About 27% of the administered dose is excreted through the feces in the form of the sulfone derivative. The remaining amount is further metabolized and partly excreted through urine (up to 30% of the administered dose).
Mechanism of action of monepantel
The molecular mode of action of monepantel is different to the one of all other anthelmintics. Monepantel acts on a particular nicotinic acetylcholine receptor subunit (Hco-MPTL-1) that occurs only in nematodes and not in other organisms, e.g. in mammals. As all other acetylcholine receptors, this particular one is also present in the membrane of certain neurons and neuromuscular junctions and is responsible for the correct transmission of the nerve signals. Monepantel blocks these receptors and the affected worms are paralyzed and die or are expelled.
Click here to view the list of all technical summaries of antiparasitic active ingredients in this site.