Derquantel is an antiparasitic active ingredient used in veterinary medicine. It is used in sheep against some internal parasites (mainly roundworms). It is not used against agricultural and household pests. It belongs to the chemical class of the spiroindoles.
Common name: DERQUANTEL
Type: veterinary medecine
Chemical class: spiroindole
Other names: PNU 141962; 2-Deoxy paraherquamide.
CHEMICAL STRUCTURE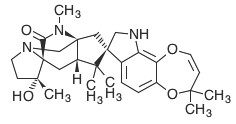 ---
EFFICACY AGAINST PARASITES
Type of action: Anthelmintic, nematicide.
Main veterinary parasites controlled: Gastrointestinal roundworms, mainly Haemonchus contortus, Trichostrongylus colubriformis and Nematodirus spp, including those resistant to most classic anthelmintics (benzimidazoles, levamisole, macrocyclic lactones). However, derquantel has less than 95% efficacy against Teladorsagia (Ostertagia) circumcincta and does not control some large bowel worms.
Efficacy against a specific parasite depends on the delivery form and on the dose administered.
Click here for general information on features and characteristics of PARASITICIDES.
---
DOSING
Derquantel is a narrow-spectrum anthelmintic effective against some gastrointestinal roundworms of sheep. It is ineffectice against roundworms outside the digestive tract (e.g. in the lungs, in the eyes, etc), against tapeworms, or against flukes (e.g. Fasciola hepatica). It is completely ineffective against external parasites. It is administered orally as a drench, so far only in combination with abamectin. For the time being it is neither used in cattle, nor in other livestock, horses or pets.
Derquantel has almost no residual effect, i.e. it kills the parasites during a few hours after treatment but offers no significant protection against re-infestation.
The table below indicates some usual dosing recommendations for derquantel issued by manufacturers or documented in the scientific literature. They may not be approved in some countries.
Dosing recommendations for DERQUANTEL

Delivery
Parasites 
Dose (against derquantel-susceptible parasites)

SHEEP & GOATS
Oral (drench)
Gastrointestinal roundworms
2 mg/kg
DISCLAIMER: Liability is denied for any possible damage or harm to persons, animals or any other goods that could follow the transmission or use of the information, data or recommendations in this site by any site visitor or third parties.
Dosing recommendations for antiparasitics depend on national regulations. National regulatory authorities determine whether a product is approved for a given indication, i.e. use on a particular host at a specific dose and against a specific parasite. Check the labels of the products available in your country for specific information on approved indications.
---
SAFETY
Oral LD50, rat, acute*: >1200 mg/kg (according to APVMA Public Release Summary)
Dermal LD50, rat, acute*: >2000 mg/kg (according to APVMA Public Release Summary)
* These values refer to the active ingredient. Toxicity has to be determined for each formulation as well. Formulations are usually significantly less toxic than the active ingredients.
MRL (maximum residue limit) established for either beef, mutton pork or chicken meat*:
CODEX: Yes
EU: Yes
USA: No
AUS: Yes
* This information is an indicator of the acceptance of an active ingredient by the most influential regulatory bodies for use on livestock.
Withholding periods for meat, milk, eggs, etc. depend on delivery form, dose and national regulations. Check the product label in your country.
General safety information for antiparasitics is available in specific articles in this site (click to visit):
WARNING
Never use products for livestock on dogs and cats unless they are explicitly approved for both livestock and pets. Pets may not tolerate livestock formulations.
Never use agricultural or hygiene products with this or any other active ingredient on livestock or pets, even if there are veterinary products with this same active ingredient approved for use on animals. The formulations for agricultural or hygiene use are different and may be toxic for livestock or pets.
It is obvious that veterinary products are not intended for and should never be used on humans!!!
---
MARKETING & USAGE



Decade of introduction: 2010
Introduced by: PFIZER → ZOETIS
Commercial brands: STARTECT
Patent: Not expired
Use in LIVESTOCK: moderate, so far only in sheep
Use in HORSES: No
Use in DOGS and CATS: No
Main delivery forms: 
Use in human medicine: No
Use in public/domestic hygiene: Yes
Use in agriculture: NO
Generics available: NO
---
PARASITE RESISTANCE
In livestock: NO. This is not surprising considering that it is one of the newest anthelmintic compounds introduced in the 2000s.
In pets: NO.
Learn more about parasite resistance and how it develops.
---
SPECIFIC FEATURES
DERQUANTEL is a so-called spiroindole and is prepared semisynthetically by chemical reduction of paraherquamide, which is obtained from fermentation extracts of Penicillium simplicissimum, a particular species of soil fungi. It was discovered by UPJOHN Animal Health (now ZOETIS). Paraherquamide was also found to be an effective anthelmintic but it has not been developed to a commercial product.
For the time being there are no other commercial anthelmintic active ingredients belonging to chemical class of the spiroindoles.
Efficacy of Derquantel
Derquantel shows high efficacy against several gastrointestinal roundworms that affect sheep. At the recommended therapeutic dose derquantel is highly effective against Haemonchus spp, Cooperia spp, and Trichostrongylus spp, including those resistant to most classic anthelmintics (benzimidazoles, levamisole, macrocyclic lactones). However it has a lower and variable efficacy against Ostertagia spp (= Teladorsagia), and is basically ineffective against Oesophagostomum spp and Trichuris spp, other important gastrointestinal worms of sheep. It is also ineffective against lungworms and other roundworms that infect sheep outside the gastrointestinal system.
Derquantel is not effective against tapeworms or flukes, nor against any external parasites of livestock.
So far derquantel is marketed only for sheep and in combination with abamectin. This is most likely due to the fact that at the therapeutic dose of 2 mg/kg the spectrum of activity of derquantel is rather narrow. It is not effective against several gastrointestinal roundworms (e.g. Oesophagostomum spp and Trichuris spp) that often infect sheep nor against lungworms.
Mechanism of action of Derquantel
Derquantel is a nicotinic cholinergic antagonist: it blocks the cholinergic neuromuscular transmission. The effect on the worms is that they are paralyzed and die or are expelled. This mechanism of action was also found for phenothiazine, another anthelmintic (introduced in the 1940s) now abandoned.
Pharmacokinetics of derquantel
Orally administered derquantel is quickly absorbed to blood. In several pharmacokinetic studies peak plasma levels were reached 0.5-4 hours after administration in rats, 0.5 hours in dogs and ~3-5 hours in sheep. Bioavailability of derquantel after oral administration of the commercial formulation was ~55%.
Excretion was rather fast with a half-life of about 13 hours. Excretion occurs mainly through feces (85%) and urine (10%). Studies with radio-labeled derquantel showed that about 50% of the administered dose is excreted 24 hours after administration, ~88% 48 hours, and ~90% 96 hours after administration.
Orally administered derquantel is quickly and almost completely metabolized, with significant differences in the number and amount of metabolites that were found for rats, dogs and sheep. In sheep highest residues were found in body fat and liver. Derquantel residues declined quickly during the first 6 days after administration and remained measurable (> limit of quantification of 0.1 mcg/kg) during about 35 days.
Due to its fast and complete metabolism and excretion it can be concluded that after a single oral administration derquantel has almost no residual effect on the worm species it controls. This means that it kills these parasites during a few hours after treatment but protection against re-infestation will nost last more than 2-3 days.
Click here to view the list of all technical summaries of antiparasitic active ingredients in this site.