This article offers a summary of the most common parasites of horses,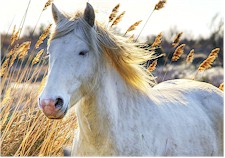 both external (ectoparasites) and internal (helminths, endoparasites) parasites.
Detail information on the biology and control (life cycle, anatomy, prevention, chemical control, etc.) of each species is available in specific articles in this site. To visit these specific articles click the corresponding link or use the site map.
Three letters summarize important characteristics of each parasite:
«H» to «HHHHH» indicates how harmful they are for horses. The more H, the more harmful.
«F» to «FFFFF» indicates how frequent these parasites are. The more «F», the more frequent.
«R» to «RRRRR» indicates the magnitude of the resistance problems of these parasites to parasiticides on a worldwide basis. The more «

R

»

, the higher the risk of resistance.
---
External Parasites
Biting

 insects (hematophagous), i.e. they
suck blood
Non-biting

insects, do not suck blood
Houseflies.

H

-

FFFF

-

RRR

RR

.

Can be a serious problem in dairy operations and feedlots worldwide, mainly during the warm and humid season.

Filth & nuisance flies.

H

-FF.

Usually a secondary issue in dairy and feedlot operations in the warm and humid season.

Lice.

H

-

FF

-

R

.

Very common problem worldwide, mainly in indoor operations, particularly during the cold season

in regions with temperate climate.
Myiasis: The insect larvae are parasitic, not the adults
Human bot flies, Dermatobia.

HHH

-

FF

.

A serious problem in many regions of Central and South America.

Screwworm flies.

HHH

-

FF

.

A serious threat for all horses outdoors in endemic regions in tropical and subtropical countries where it has not been yet eradicated.

Horse bot flies.

HHH

-

FF

. A serious threat worldwide, particularly for young foals.
Ticks (suck blood) & mites (don't suck blood)
Internal parasites

(endoparasites, worms, helminths)
Gastrointestinal

 roundworms (nematodes)
Respiratory

 roundworms

(nematodes)
Dictyocaulus arnfieldi.

HHH

-

FFF

.

Lungworms.

A serious problem worldwide, particularly for young animals, mainly in regions with temperate and cold climate.
Roundworms

(nematodes) in the skin, heart and other organs
Flukes 

(trematodes, flatworms)