This article offers a list of the most common parasites of dogs,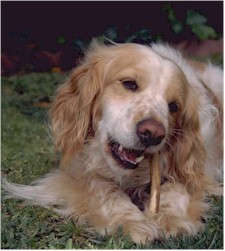 both external (ectoparasites) and internal (endoparasites) parasites. 
Detail information on their biology and control (life cycle, anatomy, prevention, chemical control, etc.) is available in specific articles in this site. To visit these specific articles click the corresponding link or use the site map.
Three letters summarize important characteristics of each parasite:
«H» to «HHHHH» indicates how harmful they are for dogs or puppies. The more H, the more harmful.
«F» to «FFFFF» indicates how frequent these parasites are. The more «F», the more frequent.
«C» to «CCCCC» indicates how contagious for humans are these parasites through direct or indirect contact with the dogs. The more «C», the more contagious, regardless of the seriousness of these dog parasites for humans: some are rather benign, other very harmful.
For a general introduction to parasites click here.
---
External Parasites (ectoparasites)

Biting

 insects (hematophagous), i.e. they
suck blood
Non-biting

insects,
do not suck blood
Ticks. HHHH-FFF-C. A considerable threat worldwide, especially in rural regions of tropical and subtropical countries. Ticks transmit many dog diseases.
Mites. HH-FF-CC. Occur worldwide but usually not the worse problem in dogs.
Additional information on the general features of insects, ticks, and mites is available in this site.
---
Internal parasites
(endoparasites, worms, helminths)
Predilection sites are indicated in braquets.

Gastrointestinal

 roundworms

(nematodes)
Respiratory

 roundworms

(nematodes)



Crenosoma vulpis. H-F. The fox lungworm.

(

Trachea, bronchi, bronchioles)

.

Usually a minor problem in the Northern Hemisphere.



Eucoleus spp. (=Capillaria spp). H-F. Hairworms, nasal worms. (Nasal cavities). Usually a minor issue. Worldwide, but with different regional incidence.

Metastrongylus elongatus (=M. apri). H-F. (

Bronchi, bronchioles)

. Very occasionally in dogs.
Roundworms

(nematodes) in the eyes, skin, heart and other organs



Flukes 

(trematodes, flatworms) 
Other
Linguatula serrata. H-F. Tongue worms. (Nasal cavities and pharynx). Usually a minor problem. Worldwide but rather occasional in tropical regions.